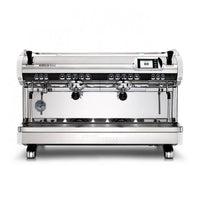 Nuova Simonelli Aurelia Wave - 2 Group Commercial Espresso Machine
CONTACT US:  01483 80 85 80  or  sales@redber.co.uk
Overview
Traditional coffee machine; Volumetric dosage ; 2 stainless steal steam wands; 1 hot water wand with economizer; Raised groups ; Automatic cleaning system; USB slot ; TFT.
Pricing Plans
This equipment is available to lease or purchase – enquire now for a personalised quote.
Call us on 01483 80 85 80 for more information on pricing.
Version
Machine Only Weekly
Cost from (ex VAT)
2 group / tall
£

24.59
CONTACT US:  01483 80 85 80  or  sales@redber.co.uk
We can usually delivery and/or install equipment within 10 working days, depending on the availability of equipment and our installation engineers. Some equipment requires a special order from the manufacture and can take up-to 14 weeks.

Lease quotes displayed for illustrative purposes only. Lease quotes are based on weekly calculations over a 5-year lease agreement (other periods are available on request). At the end of your finance agreement a transfer of ownership fee applies (approx. £200 + vat). Lease quote vary depending on your circumstances. Finance agreements are arranged with a 3rd party finance company authorised and regulated by the Financial Conduct Authority. 3-years trading history or home-owners guarantor is usually required.