MEXICO SILTEPEC EL JAGUAR - Green Coffee Beans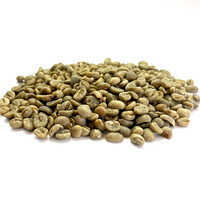 MEXICO SILTEPEC EL JAGUAR - Green Coffee Beans
**PLEASE BE AWARE THESE ARE RAW, UNROASTED COFFEE BEANS, NOT SUITABLE FOR CONSUMPTION BEFORE BEING ROASTED**
Our El Jaguar is light bodied, with low acidity and distinct flavours of brown sugar and tangerine with hints of lemongrass. 
What you need to know 
Flavours

 

- Caramel, Brown Sugar, Lemongrass, and Tangerine
Aroma

 

- Sweet, C

innamon, Dark Chocolate

Body

 

- Smooth
Acidity

 

- Low
Perfect for...
Drip, filter, aeropress
The finer details... 
Origin: Mexico
Region:

 

Sierra Madre
Farm: Pohlenz Family
Altitude: 1.110 - 1.250 masl
Variety:

 

Bourbon, Catuai, Caturra
Process: Sun-dried, washed
This coffee comes from a group of small producers who harvest and produce the beans using traditional farming methods. Siltepec is a high altitude, shade grown coffee, which is craft de-pulped, fermented, washed and sun dried. The plantations are located in the Chiapas State of Mexico, near the Biosphere Reserve El Triunfo, which was named in 1972 as a natural area to preserve the quetzal bird (which only lives in this area). In 1990 the reserve became a federal protected area with an extension of 119,000 hectares. The biosphere hosts 11 of the 18 recognised vegetation types in the Chiapas, totalling around 1,500 species. The Chiapas territory as a whole hosts around 3.000 species of flora.