Simply Coffee Syrup 1L - Eggnog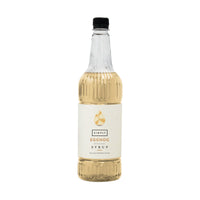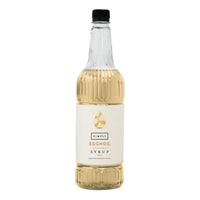 Simply Coffee Syrup 1L - Eggnog
This eggnog coffee flavouring syrup can make great milkshakes, or add to smoothies for extra flavour. You can even use this in long cocktails, or flavour your cakes and muffins. When used with the portion pump (available separately), each bottle contains approximately 125 shots. This syrup is also organic. 
The 'Simply' range of natural syrup flavourings are suitable for vegetarians and are GM free. Made by the Italian Beverage Company, they are presented in 1 litre plastic bottles so you don't need to worry about breakages.
Simply Eggnog Syrup Key Features:
No Hydrogenated Fats
Halal Certified
Vegetarian Society Approved
Gluten Free
GMO free
No Artificial Colours
No Artificial Flavouring
Simply Eggnog Syrup
White Christmas
1 pump Simply Eggnog syrup
2 pumps Simply White Chocolate sauce
steamed milk
whipped cream
Simply Eggnog Coffee Syrup Storage Instructions

Store in dry, cool ambient conditions, away from heat sources and odorous materials
After opening, keep container closed. Keep cap area clean and free from syrup residues. Do not refrigerate – crystals may form in the liquid at low temperature.
Simply Eggnog Coffee Syrup shelf life after opening: 12 months
| | |
| --- | --- |
| Energy | 1360 kJ/100ml |
| Energy | 320 cal/100m |
| Total fat | 0 g/100ml |
| Saturated fats | 0 g/100ml |
| Total carbohydrate | 78.1 g/100ml |
| Of which sugars | 58.8 g/100ml |
| Protein | 0 g/100ml |
| Salt | 0.26 g/100ml |
Simply Eggnog Coffee Syrup Ingredients
Sugar, Water, Glycerine, Natural Flavouring, Salt, Preservative E202, Citric acid, Colour: E160a
Simply Eggnog Coffee Syrup Allergen Information
Allergens shown in bold in ingredients list.