Everpure Pentair Conserv 75E Reverse Osmosis System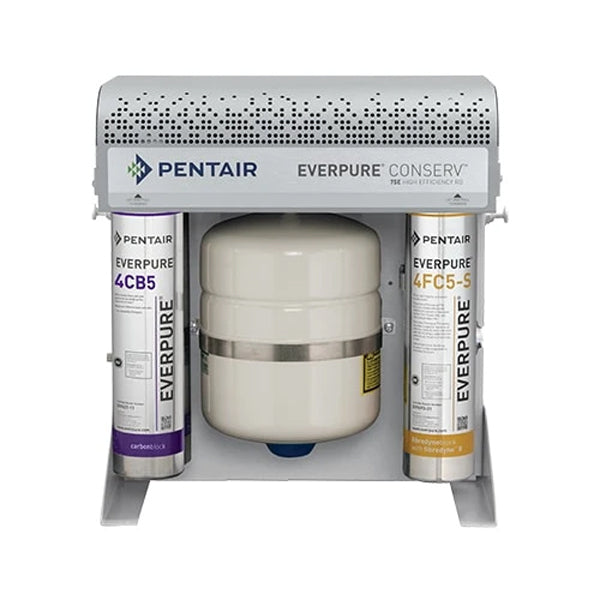 Everpure Pentair Conserv 75E Reverse Osmosis System
The Everpure Conserv 75E is a solution that brings the benefits of reverse osmosis (RO) water to coffee applications. It combines a carbon filter, scale inhibition, calcite feeder and blending to create the right balance of minerals to prevent both corrosion and scale formation, differentiating it from conventional RO systems.
It is a reliable, simple to install and easy to operate solution that requires cartridge changes only once a year.
The system helps users meet foodservice equipment manufacturers' water specification requirements, maintaining warranty compliance, reducing premature warranty claims, increasing equipment life, and ensuring customer satisfaction.
Dimensions & Benefits 
Designed specifically for coffee and espresso applications.
Blending valve allows for easy adjustment of the water recipe by the operator, creating the perfect water for releasing the full flavour of beans.
Highly efficient operation reduces running costs.
Compact design allows for countertop or undercounter installation.
One centralised unit that only requires 1 callout per year regardless of area of installation and equipment manufacturer.
Protects against taste and odour causing contaminants while removing dirt, particulates and dissolved minerals.
NSF/ANSI Standard 58 certified to reduce cysts such as Cryptosporidium and Giardia by mechanical means.
Specification  
Daily Production Rate

191 Lpd

 
Service Flow Rate

1.9 L @ 3.4 – 5.8 bar

Inlet/Outlet Connection

3/8" OD John Guest® fitting

Wastewater Connection
1/4" OD John Guest® fitting
Operating Pressure Requirements

2.7 – 5.8 bar, non-shock

Maximum Operating Pressure

8.6 bar

Inlet Temperature
0 – 37.7°C
Inlet TDS

1,000 ppm maximum

Storage Tank Capacity
7.6 L tank
3.8 L effective/usable capacity
Overall Dimensions

47.5 cm (h) x 43.1 cm (w) x 26 cm (d)

Operating Weight

24.04 kgs