Moccamaster KBGT 741 Filter Coffee Machine 79322 - Polished Silver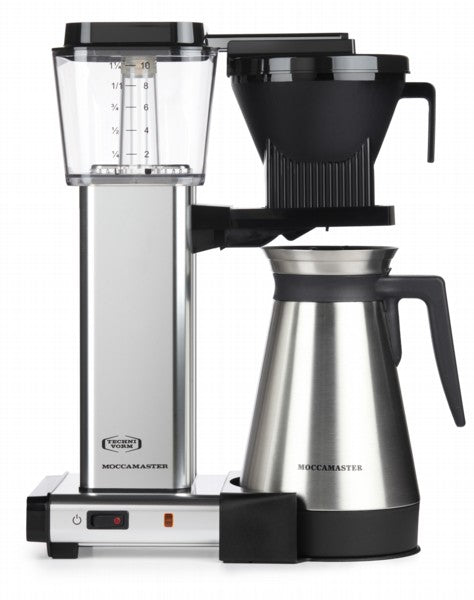 Moccamaster KBGT 741 Filter Coffee Machine 79322 - Polished Silver
Suitable for brewing 1.25 ltr of coffee; for smaller quantities, we recommend the KBG with glass jug for maximum heat retention. We advise to preheat the thermos jug well to keep the coffee warm enough during 2 hours.
KBGT 741: The traditional coffee filter machine with thermos jug
Perfect brewing temperature of 92° to 96°C: less sour or bitter taste
Brew basket with automatic drip stop
1.25 litre (10 cups) within 6 min.
9-hole stainless steel outlet arm for efficient wetting of the coffee grounds
Two lids: the mixing/brewing lid with mixing tube for homogeneous coffee and a transport lid
The mixing lid is also suitable to poor the coffee in your mug, no need to turn the lid open.
UK plug available.
The assurances of Moccamaster
High quality recycable materials, BPA free
Handmade in The Netherlands under strict quality control
Long lasting performance, 5 years warranty
SCA & ECBC certified
Solid aluminium housing
Removable parts easy to clean and easy to be replaced
Moccamaster, the healthy choice
Filter coffee is gaining in popularity and there is a good reason for this:
filter coffee contains the lowest level of cafestol. This coffee ingredient
indirectly increases the level of cholesterol, the negative effects of which
are well known. In comparison to capsule machines, the benefits for the
environment is in favour of filter coffee due to less energy for production
and less litter. Moccamaster brews a good old fashioned fresh cup of coffee.
Art. no. 79322
Find The Perfect Beans To Compliment Your Polished Silver Moccamaster Filter Coffee Machine
At Redber, we hand-pick a wide variety of coffees to suit all manner of tastes. We have coffee beans from Colombia, Brazil, Ethiopia, Java, Tanzania, Kenya, Costa Rica, or Guatemala. If you'd prefer decaf coffee beans then we have those as well. 
Coffee Accessories 
To enrich your coffee experience, why not invest in a set of double walled coffee glasses, or perhaps some stylish stoneware mugs, or maybe even a Bodum coffee travel mug for journey to and from the office. Make sure you also check out our range of Burr Grinders so you can grind your beans for the perfect cup. 
Care & maintenance for your coffee machine 

Every Moccamaster coffee machine requires regular cleaning and maintenance to ensure it continues to function and your coffee always tastes fresh. We recommend investing in cleaning tablets to remove build up of coffee, water and oils, as well as coffee machine descaler to remove limescale from your pipes. Alternatively, you can buy a complete coffee machine cleaning kit that comes with everything you need to service your machine.