Bodum Pavina Set of 2 Double Wall Glasses, 0.08L - 4557-10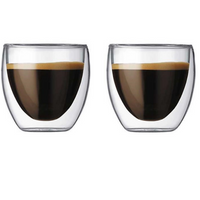 Bodum Pavina Set of 2 Double Wall Glasses, 0.08L - 4557-10
The PAVINA Double Wall Glasses keep hot drinks hot without burning fingers and cold drinks cold without messy condensation, making them the ideal vessels for every beverage, from cocktails to cocoa. So you'll only need to buy one type of glass for your home!

Features:
• Individually mouth-blown by expert artisans, BODUM's proprietary Double Wall Glasses feature two walls of borosilicate glass, creating a highly effective layer of insulation.
• Silicone valve at base allows for changes in pressure. 
• Also perfect for serving ice cream and soups.
• Dishwasher, microwave safe, and oven safe (up to 350°F/176°C).