Alessi Mazagran Cold Brew Coffee Carafe - Red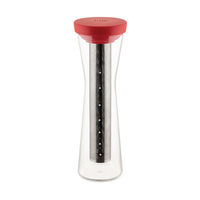 Alessi Mazagran Cold Brew Coffee Carafe - Red
Alessi brings you the Mazagran Cold Brew Coffee Carafe.

Mazagran Cold Brew Coffee Carafe is the result of thorough research on coffee preparation methods. Intended for cold brew, this method bypasses the oxidation of coffee, resulting in an intense and robust flavour.
Its classic design is simple yet stylish, and it's easy to use! Designed for the perfect extraction of coffee, ideal to enjoy a fresh and energising drink. The perfect way to start your day with a smile!
Product Details:
Dimensions: 410.5 x 30cm

Capacity: 0.9L / 304.3fl oz
Bottle Material: Borosilicate glass, Thermoplastic resin
Filter Material: 18/10 stainless steel
Product code: GIA31 R