Sage The Oracle™ Touch Bean to Cup Coffee Machine - Black Truffle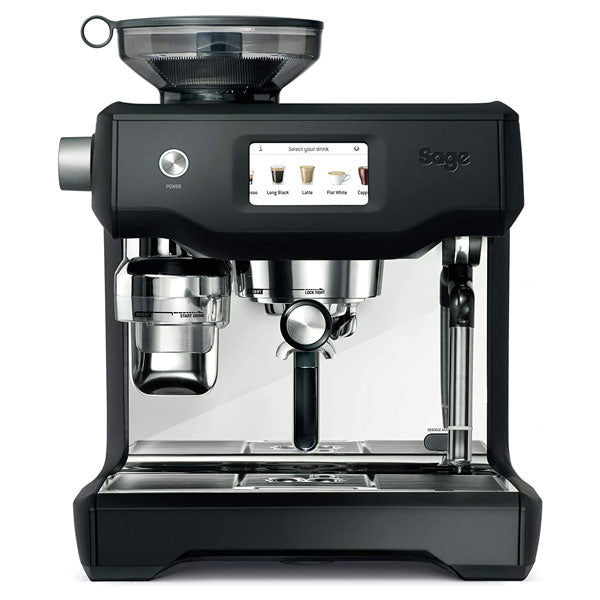 Sage The Oracle™ Touch Bean to Cup Coffee Machine - Black Truffle
About the Sage The Oracle Touch Coffee Machine
Making a delicious coffee could not be easier. The Sage Oracle Touch in stunning black truffle, is a fully automatic espresso machine that makes cappuccino, latte, flat white or americano at a touch of a button. 
Sage The Oracle Touch key features: 
✔ Automatic grinding & tamping
✔ Dual boiler
✔ Automatic milk texturing
✔ Touchscreen
✔ 2 year warranty
✔ Colour: Black Truffle
What is included:
2 x 250 bags of Freshly Roasted Coffee Beans
Sage The Oracle Touch™ 
Highlights
Automated, touch screen operation simplifies how to make your favourite cafe coffee in three easy steps - grind, brew and milk. You can easily adjust the coffee strength, milk texture or temperature to suit your taste. Then save it with your own unique name. Create and save up to 8 personalised coffees.
The integrated conical burr grinder automatically grinds, doses and tamps 22 grams of coffee, similar to the commercial machine in your favourite cafe.
Digital temperature control technology - The difference between an ashy or balanced tasting espresso can be caused by temperature change as little as 1ºC. The Oracle™ Touch uses digital temperature control (PID) technology, this ensures the temperature is kept at its optimum range coupled with dual stainless steel boilers and a heated group head.
The Over Pressure Valve (OPV) is a commercial feature included in the Oracle™ Touch. This limits the maximum pressure throughout the extraction, helping prevent bitter flavours in the coffee shot. It also has true low pressure pre-infusion, which gradually increases the pressure to gently expand the grinds for an even extraction.
Micro-foam texture - A cafe quality coffee is a delicate balance of espresso flavour and rich sweet milk with a micro-foam texture. The steam wand, powered by a dedicated steam boiler, automatically textures milk to your taste and preferred temperature, delivering barista quality silky micro-foam that enhances the flavour of coffee. Then it cleans itself.
One Touch Americano feature - The innovative One Touch Americano feature delivers a double espresso, and then separately through a dedicated spout, fills the cup with hot water, the same way as any good commercial machine.
Buying Information:
Product no: SES990BTR
The machine comes with 2 years warranty. 
Please call or email our coffee experts if you need any more information on this machine. 
Sage The Oracle Technical Specs:
Dimensions (H x W x D): 454 mm x 392 mm x 373 mm
Warranty: 2  Year Repair, Replace or Refund Guarantee (at the sole discretion of Sage Appliances)
Construction Materials: Brushed Stainless Steel Stainless Steel Dual Boiler
Settings: Touch screen operation
5 pre-programmed Café favourites
Create, save and name 8 customisable coffee settings
Adjustable Grind Control
Programmable Milk Temperature
Texture One/Two Shots Hot Water
Included Accessories: 
Mini Grinds Bin 58mm
Full Stainless Steel Portafilter
1 cup & 2 cup Single Wall Filter Baskets
480ml Stainless Steel Milk Jug
Steam Wand spare parts
Cleaning Kit
Water Hardness Test Strip
Water Filter Holder
Water Filter
Timer: Espresso shot clock displays shot duration as a guide to extraction consistency
Triple Heat System: 
1. Dedicated steam boiler with integrated Heat Exchange aids thermal stability
2. Dedicated espresso boiler with Digital PID control delivers precise water temperature
3. Heated group head–PID controlled embedded element maintains thermal stability
Voltage: 220–240 Volts
Pressure: Limit of 15 bar Italian pump pressure throughout the extraction, preventing bitter flavours in the shot.


Find The Perfect Beans To Compliment Your  Sage Oracle™ Touch Coffee Machine
Redber, we hand-pick a wide variety of coffees to suit all manner of tastes. We have coffee beans from Colombia, Brazil, Ethiopia, Java, Tanzania, Kenya, Costa Rica, or Guatemala. If you'd prefer decaf coffee beans then we have those as well. 
Coffee Accessories 
To enrich your Sage Oracle™ coffee experience, why not invest in a set of double walled coffee glasses, or perhaps some stylish stoneware mugs, or maybe even a Bodum coffee travel mug for journey to and from the office.
Care & maintenance for your coffee machine 
Every Sage Black Oracle coffee machine requires regular cleaning and maintenance to ensure it continues to function and your coffee always tastes fresh. We recommend investing in cleaning tablets to remove build up of coffee, water and oils, as well as coffee machine descaler to remove limescale from your pipes. Alternatively, you can buy a complete coffee machine cleaning kit that comes with everything you need to service your machine.