Moccamaster KBG Select Filter Coffee Machine 53807 - Pastel Green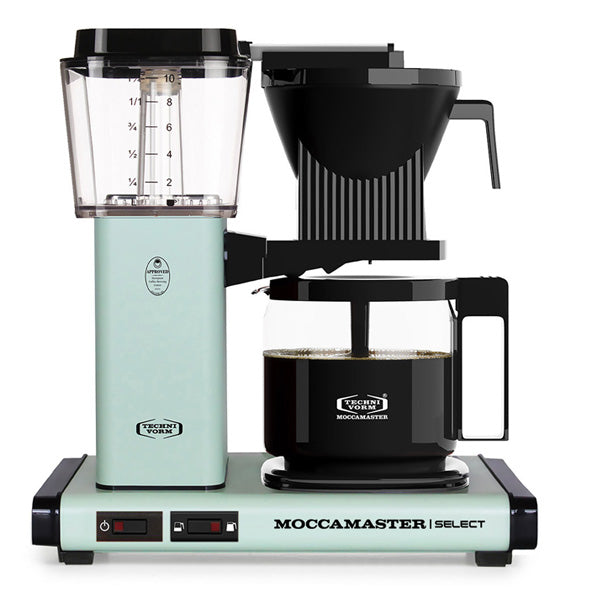 Moccamaster KBG Select Filter Coffee Machine 53807 - Pastel Green
The new Moccamaster KBG Select is certified for 10 and 6 cups. Thanks to the new select switch, it's possible to easily switch between a full or half jug. The waterflow will be slower using the switch for half jug. The result will always be an aromatic cup of coffee with a full flavor, regardless of the amount of cups. This makes the Moccamaster KBG Select the perfect coffee machine for a full jug but also for a few cups.
Perfect brewing temperature of 92° to 96°C: less sour or bitter taste. At this temperature the water dissolves the aromatic oils resulting in an ideal balance between sweet and bitter
Fast and silent brewing process: 10 cups within 6 minutes
9-hole stainless steel outlet arm for efficient wetting of the coffee grounds
Jug lid with mixing tube for homogeneous coffee
Brew basket with automatic drip stop
The brewing element switches off automatically after brewing
Extra fire prevention: the brewing element switches off when the brewing is finished. The hot plate works independently.
The hotplate keeps the coffee at 80°-85°C and automatically switches off after 40 minutes
High quality copper brew element.
Handmade in The Netherlands under strict quality control
High quality recycable materials, BPA free
Long lasting performance
Removable parts easy to clean and easy to be replaced
SCA & ECBC certified
5 years warranty
Technical details
Size H 36 cm, W 32 cm, D 17 cm
Weight 2,8kg
Power 1.520 W
Cord 100 cm
Coffee filter No. 4
How many grams coffee per liter?
For brewing 1.25 liter we advise 60-75 grams of coffee. For brewing 4-6 cups, we recommend to increase the dosage. One dosage spoon (included) is 12 grams.
Coffee is a matter of taste: try which coffee at which dosage you like best!
Want to see our other Moccamaster coffee machines?  
You can explore the complete Moccamaster Coffee Maker range here. 
Find The Perfect Beans To Compliment Your Pastel Moccamaster Coffee Machine
At Redber, we hand-pick a wide variety of coffees to suit all manner of tastes. We have coffee beans from Colombia, Brazil, Ethiopia, Java, Tanzania, Kenya, Costa Rica, or Guatemala. If you'd prefer decaf coffee beans then we have those as well. 
Coffee Accessories 
To enrich your coffee experience, why not invest in a set of double walled coffee glasses, or perhaps some stylish stoneware mugs, or maybe even a Bodum coffee travel mug for journey to and from the office.  
Care & maintenance for your coffee machine 

Every Moccamaster coffee machine requires regular cleaning and maintenance to ensure it continues to function and your coffee always tastes fresh. We recommend investing in cleaning tablets to remove build up of coffee, water and oils, as well as coffee machine descaler to remove limescale from your pipes. Alternatively, you can buy a complete coffee machine cleaning kit that comes with everything you need to service your machine.