Generic 10-13 Litre Paper Coffee Filter Cups, 250 pcs, B10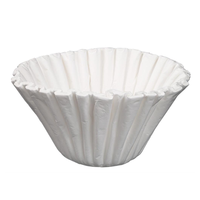 Generic 10-13 Litre Paper Coffee Filter Cups, 250 pcs, B10
Box of 250 filters for 10-13 litre / 3 Gallon bulk brew filter coffee machines, inclduing Bravilor B10 (HW)
Box of generic Filter Papers (250) for use with B10 and B10 HW Round Filter Coffee Machines. Fast, low price UK delivery.
Filter cups for 10 litre baskets
Pack of 250 filters
Size: 152/437 mm
For an optimum coffee distribution and a delicious aroma. Because of their shape and volume the perfect solution for ground coffee. The filter cups are packed in a box of 250 pieces.