Elia Stainless Steel Designer Tea & Coffee Pot- 0.70L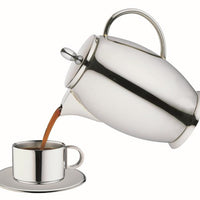 Elia Stainless Steel Designer Tea & Coffee Pot- 0.70L
This 0.7L Elia tea and coffee pot, designed by Nick Holland, is expertly crafted from 18/10 stainless steel and features hollow handles that help dissipate heat and a pedestal base for comfortable handling.

The drip-free spout ensures the 'Perfect Pour' that makes this range so appealing. 
Item no. TDC-70SC
Please note: Estimated delivery time for cases 3-5 days. 
Dimensions
Length 14cm
Width 6cm
Height 14cm