Alessi Mazagran Cold Brew Coffee Carafe - Brown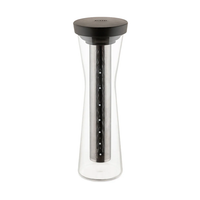 Alessi Mazagran Cold Brew Coffee Carafe - Brown
Alessi brings you the Mazagran Cold Brew Coffee Carafe.
The result of in-depth research on the methods of preparing coffee, Mazagran is an implement for cold brew coffee, a method which, by not using hot water, avoids the oxidation of the coffee allowing a drink with an intense and full-bodied taste.
Its classic design is simple yet stylish, and it's easy to use! Designed for the perfect extraction of coffee, ideal to enjoy a fresh and energising drink. The perfect way to start your day with a smile!
Product Details:
Dimensions: 410.5 x 30cm

Capacity: 0.9L / 304.3fl oz
Bottle Material: Borosilicate glass, Thermoplastic resin
Filter Material: 18/10 stainless steel
Product code: GIA31 BR