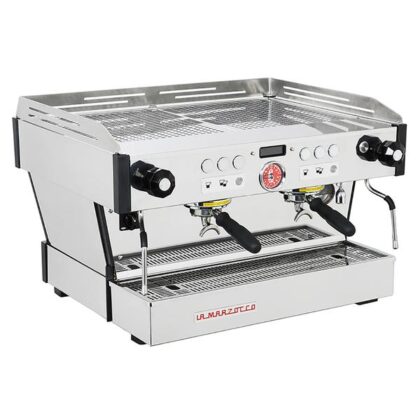 La Marzocco Linea PB S AV / ABR - 2 or 3 Group Commercial Espresso Machine
La Marzocco Linea PB S AV / ABR - 2 or 3 group commercial semi-automatic espresso machine with dual boiler & PID. Best machines performance, icon design. Best machine speciality café, coffee shop & restaurant business serving barista coffee. Buy or Lease
Overview

A heavy duty workhorse from La Marzocco - capturing the past, envisioning the future.
Pricing Plans
This equipment is available to lease or purchase – enquire now for a personalised quote.
Version
Machine Only Weekly
Cost from (ex VAT)
2 group / AV
£POA
2 group / ABR (Auto Brew Ratio)
£58.58
Machine Only option includes:
- Espresso machine
- 12 months manufactures parts warranty
- Delivery
Start-up Package option includes:
- Espresso machine
- Mahlkonig E65S on-demand timed coffee grinder (with AV model)
- Mahlkonig E65S grind by weight coffee grinder (with ABR model)
- Puqpress M3 automated coffee tamper
- Mahlkonig X54 decaf coffee grinder
- 12 months manufactures parts warranty
- Delivery
- Installation
- Claris Ultra 1000 water filter and Claris Ultra water filter head unit 
- Barista accessories kit including Knock Box Drawer
Enquire now
 

for more information on pricing.

 

We can usually delivery and/or install equipment within 10 working days, depending on the availability of equipment and our installation engineers. Some equipment requires a special order from the manufacture and can take up-to 14 weeks.

Lease quotes displayed for illustrative purposes only and are subject to credit approval & VAT. Lease quotes are based on weekly calculations over a 5-year lease agreement (other periods are available on request). Figures are based on payment by Direct Debit and a document fee (approx. £150 + vat) will be due with the first payment. At the end of the finance agreement you can return the equipment to us for a discount on new equipment or pay a transfer of ownership fee (approx. £200 + vat) to own the equipment. There is also the option of upgrading your equipment before the end of your agreement.  Lease quote vary depending on your circumstances. Finance agreements are arranged with a 3rd party finance company authorised and regulated by the Financial Conduct Authority. 3-years trading history or home-owners guarantor is usually required.