Melitta AromaFresh Grind & Brew Therm Filter Coffee Machine (with Detachable Tank)
FIL-MEAR1603-DEF
Enjoy full coffee flavour for even longer!
With its integrated grinder, the new Melitta® AromaFresh Therm not only lets you freshly grind the beans for delicious filter coffee, and the insulated jug also allows you to enjoy the full flavour of your coffee even longer. With adjustable grind levels and adjustable coffee strength for individual coffee flavour.
Product information "AromaFresh Grind & Brew Therm Filter Coffee Machine"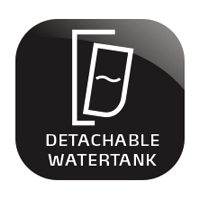 Detachable water tank
Filling and cleaning the water tank has never been so easy. The transparent water container of this coffeemachine has a recessed grip so that it can easily be removed from the appliance. The easy to read cup markers mean it is child's play to fill with the right amount.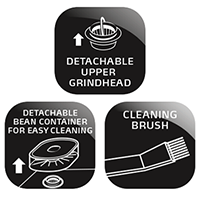 Detachable bean container and removable upper grind head
Thanks to the detachable bean container and the removable individual parts (upper grind head), the Melitta® AromaFresh can be cleaned quickly and easily. The enclosed cleaning brush makes it even easier to clean.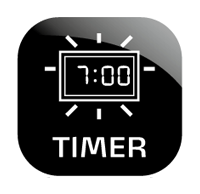 Practical timer feature including clock with LCD display
The timer feature with LED display gives you seductive coffee enjoyment at the time you set. Programme the time for your coffee machine to start brewing to be woken up in the morning by the smell of fresh coffee for example. The appliance switches on automatically at the time you set.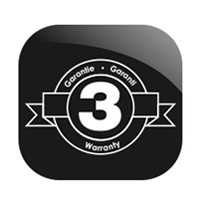 3 year manufacturer's guarantee
Melitta® stands for coffee enjoyment and quality. So we are offering you a 3 year manufacturer's guarantee.
Swing filter with removable filter insert and drip stop
Uncomplicated cleaning - the removable filter insert with integrated drip stop simply disappears into the dishwasher after use.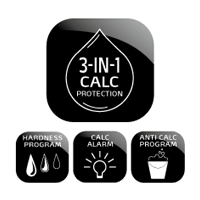 3-in-1 calc protection with descaling indicator
To ensure that your coffee machine works perfectly, has a long life and gives you the best coffee flavour it is necessary to descale it regularly. This is why Melitta® AromaFresh Therm gives you 3-in-1 calc protection with settings for water hardness, an indicator showing the level of calcification and a practical, automatic descaling programme. An LED shows you when the descaling programme should be carried out.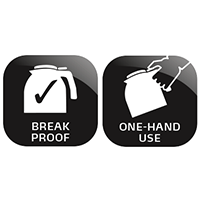 Unbreakable insulated pot can be used with one hand
This coffeemachine comes with an insulated pot made of double-walled, stainless steel and is unbreakable and shockproof. Thanks to the brew-through lid, the coffee flows into the insulated pot ready to serve. It can be used with one hand, which makes it really easy to pour your coffee.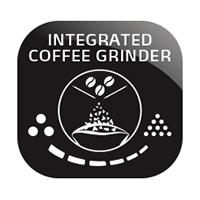 Integrated grinder with grinding level settings
This coffee machine has an integrated grinder, which guarantees the best grinding level and the best flavour from delicious filter coffee from freshly ground coffee beans. For your personal taste in freshly ground coffee beans you can set the grinding level from fine to coarse.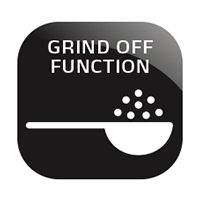 Grinder can be switched off
To make delicious coffee with pre-ground coffee the grinder can be switched off using the \"Grind-Off\" feature.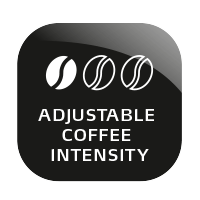 Adjustable coffee strength
The intensity of the strength of your coffee is really easy to set to your individual taste - choose from mild, medium and strong.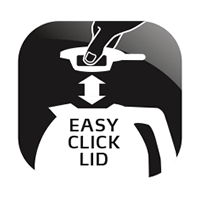 Jug lid with convenient Easy Click feature
Inconvenient tilting and troublesome tightening and loosening of the jug lid are a thing of the past, thanks to Melitta® Easy Click. To open or close the jug lid - e.g. to clean the jug - simply press the fasteners and lift up the lid or place it back on the jug. The Melitta® Easy Click feature makes our coffee jugs even more easy and convenient to use.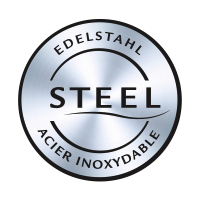 Stainless steel insulated jug and additional stainless-steel elements
The coffee machine has an unbreakable stainless-steel insulated jug and additional stainless-steel elements that make it a real eye-catcher.
| | |
| --- | --- |
| type of filter: | swivel filter |
| Transparent water tank: | yes |
| programmable warm keeping times (auto off time): | no |
| power (w): | 1100 |
| drip stop: | yes |
| model number: | 1021-12 |
| external water level indicator: | yes |
| Switchable grinding mechanism: | yes |
| Removable bean container: | yes |
| Integrated Grinder: | yes |
| Adjustable Coffee Strength (mild, medium, strong): | yes |
| Aroma Premium Technology: | no |
| Removable water tank: | yes |
| Timer feature: | yes |
| Display: | yes |
| Size of filter: | 1x4® |
| removable filter holder: | yes |
| Dimensions (Height x Width x Depth in mm): | 441x265x236 |
| Volume Water Tank (l): | 1,25 |
| max. amount of coffee: | 10 Tassen |
| colour: | black stainless steel |
| automatic switch off: | yes |
| LED button: | yes |
| programmable descaling cycles (water hardness): | yes |
| descaling indicator: | yes |
| Descaling programme: | yes |
| stainless steel elements: | yes |
| Model Series: | AromaFresh |