Jura WE8 Coffee Machine - Chrome
£2,194.50
Regular price
£2,310.00
BEA-JUWE2328-DEF
Perfect for small office with daily output of 30 cups of coffee. 
Aroma G3 grinder and Pulse Extraction Process (P.E.P)
Intelligent Water Systems
Buttons on the front of the machine and a modern TFT display
Fine foam frother G2, height-adjustable on a continuous scale
16 different specialties at the touch of a button
Wherever customers, staff and visitors can enjoy superlative coffee, the atmosphere is relaxed, communicative and productive. Anyone who appreciates the finer things in life, a wide choice of speciality coffees and aesthetics will love the WE8.
For lovers of speciality coffee
A water tank with a 3 litre holding capacity, a bean container for 500g of coffee beans and a coffee grounds container with a capacity of 25 portions make the elegant professional coffee machine the ideal solution for locations where around 30 speciality coffees are consumed per day.
Innovative technologies revolutionise the enjoyment of coffee. The One-Touch function creates trend specialities like latte macchiato, flat white or cappuccino very simply at the touch of a button. Buttons on the front of the machine and a modern TFT display make operation incredibly simple even for inexperienced users.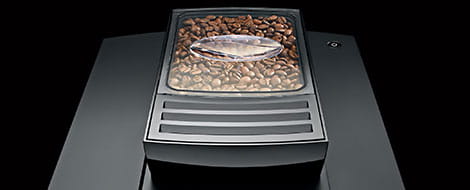 State-of-the-art technologies for perfect enjoyment
The WE8 offers 12 different specialities. JURA has perfected the complete brewing process for short speciality coffees, allowing the WE line to make them to professional barista standard every time. The six-level Aroma G3 grinder ensures that the coffee is optimally ground. It always grinds the beans fresh, quickly yet gently to preserve the aroma. The Pulse Extraction Process (P.E.P.®) developed by JURA optimises the extraction time. To make a ristretto or espresso, it forces the hot water through the ground coffee at short intervals. The One-Touch function on the WE8 allows you to make trend specialities finished with milk and milk foam at the touch of a button, without having to move the cup.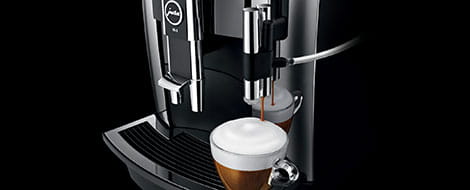 TÜV-certified hygiene guarantee
Cleanliness and hygiene are essential in the workplace, so integrated rinsing and cleaning programmes combined with specially developed cleaning products for JURA coffee machines ensure perfect hygiene at the touch of a button. The milk system is also cleaned quickly and easily at the touch of a button. This complete hygiene system, which is certified by TÜV Rheinland, makes the WE line an excellent choice for premises which operate an HACCP* concept.
* Hazard Analysis and Critical Control Points
As individual as your requirements
Because requirements vary from one situation to another, the WE8 comes with many options for programming and customisation. The amount of ground coffee and water can be adapted to suit personal preferences and the cups and glasses used. It is also possible to give preference to certain speciality coffees by disabling others. Various modes are available on request that only allow presettings and cup volumes to be changed after entering a certain key combination.
Jura product no: 15144
Find The Perfect Beans To Compliment Your Jura WE8 Classic Coffee Machine
At Redber, we hand-pick a wide variety of coffees to suit all manner of tastes. We have coffee beans from Colombia, Brazil, Ethiopia, Java, Tanzania, Kenya, Costa Rica, or Guatemala. If you'd prefer decaf coffee beans then we have those as well. 
Coffee Accessories 
To enrich your coffee experience, why not invest in a set of double walled coffee glasses, or perhaps some stylish stoneware mugs, or maybe even a Bodum coffee travel mug for journey to and from the office.  
Care & maintenance for your coffee machine 

Every Jura WE8 coffee machine requires regular cleaning and maintenance to ensure it continues to function and your coffee always tastes fresh. We recommend investing in cleaning tablets to remove build up of coffee, water and oils, as well as coffee machine descaler to remove limescale from your pipes. Alternatively, you can buy a complete coffee machine cleaning kit that comes with everything you need to service your machine.