Jura GIGA X3 Professional - Aluminium
BEA-JUGI3565-COM
Moving into the top class
The new GIGA X3 Professional offers everything needed by staff in a large office or break-out room. It delivers up to 31 individually programmable speciality coffees and another 12 barista recipes at the touch of a button, including the en-vogue flat white. As well as offering simple operation, it takes minimum effort to refill thanks to the large bean container with a holding capacity of 1 kg and aroma preservation cover. Other features include an optional coffee grounds disposal function and drip drain set.
Integrated rinsing and cleaning operations started at the touch of a button minimise the amount of work needed to maintain the machine on a daily basis. It's sure to go down a treat with your staff. A large water tank and large coffee grounds container allow for flexible and mobile use.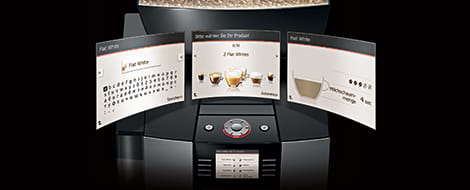 Technologies
31 specialities, as well as the start screen, can be individually programmed to suit the occasion or customer. For instance, products can be renamed and arranged to the user's liking on the display. The high-performance ceramic grinder, controlled by electronic motors, guarantees quick, precise, even and consistent grinding for many years to come. As an ingenious feature, the air intake in the dual spout is electrically adjusted by a geared stepper motor. When you make a latte macchiato, the machine automatically dispenses hot milk followed, without a pause, by milk foam into the glass. This feature saves valuable time.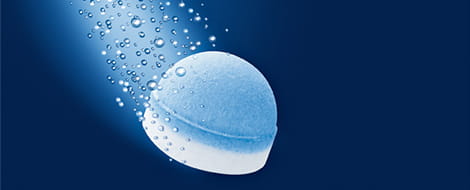 Cleaning/Hygiene
As well as being easy to operate and programme, the machine is designed to be very easy to care for. The integrated rinsing, cleaning and descaling programmes reduce the effort involved to a minimum and guarantee TÜV-certified hygiene.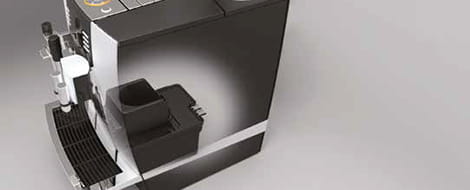 Customisable
With a wide selection of accessories including a cup warmer, milk cooler, coffee grounds disposal function set, drip drain set and interface for accounting systems, as well as an attractive range of storage and presentation units, it is possible to create a complete coffee solution tailored to your specific requirements.
Specifications
JURA Standards

| | |
| --- | --- |
| Variable brewing chamber | 5 - 16 g |
| Intelligent Pre-Brew Aroma System (I.P.B.A.S.©) | Yes |
| Intelligent preheating | Yes |
| Active bean monitoring | Yes |
| Energy Save Mode (E.S.M.©) | Yes |
| High-performance pump, 15 bar | 2 |
| Thermoblock heating system | 2 |
| Fluid system | 2 parallel |
| Monitored drip tray | Yes |
| Maintenance status display | Yes |
| Integrated rinsing, cleaning and descaling program | Yes |
| Adjustable water hardness | Yes |
| One or two cups of espresso in one brewing operation | Yes |
| JURA hygiene: TÜV-certified | Yes |
| Filter cartridge | CLARIS Pro Blue |
| Zero-Energy Switch or power switch | Classic |
| Swiss made | Yes |
Specialities

Number of products

34

Products

2 latte macchiati
1 latte macchiato
2 cappuccini
1 cappuccino
2 caffè latte
1 caffè latte
2 coffees
1 coffee
2 espressi macchiati
1 espresso macchiato
2 espressi
1 espresso
2 ristretti
1 ristretto
Pot of coffee
Milk
1 Flat White
2 Flat Whites

Barista recipes

Yes

Pot of espresso-quality coffee

Yes

Hot water function

Power hot water system

Additional preground coffee powder

Yes

Pot of coffee (360 ml / 12 oz.)

2 min. 33 sec.

2 latte macchiati

1 min. 31 sec.

2 cappuccini

1 min. 23 sec.

2 caffè latte (cafés au lait)

1 min. 8 sec.

2 coffees

1 min. 3 sec.

2 espressi

38 sec.

2 ristretti

29 sec.

Hot water (200 ml / 7 oz.)

28 sec.
Advantages

| | |
| --- | --- |
| Compatible with J.O.E® | Yes |
| JURA fine foam technology | Yes |
| Milk or milk foam preparation | Yes |
| Grinder type | Electrically adjustable ceramic disc grinder |
| Number of grinders | 1 |
| Powder chute for ground coffee | Yes |
| Powder recognition for additional ground coffee variety | Yes |
| A la carte bean selection | Yes |
Settings and programming options

| | |
| --- | --- |
| Programmable amount of water | Yes |
| Amount of water can be adjusted for each preparation | Yes |
| Programmable coffee strength in levels | 5 |
| Coffee strength can be adjusted for each preparation | Yes |
| Programmable brewing temperature | 3 |
| Programmable amount of milk | Yes |
| Hot water temperature can be programmed in levels | 3 |
| Programmable amount of hot water | Yes |
| Rotary Switch | Yes |
| Programmable preparation buttons | 8 |
| Individualized productname | Yes |
| Resettable day counter | Yes |
| Programmable switch-on time | Yes |
| Programmable switch-off time | Yes |
| Shows the number of preparations for each individual product | Yes |
| Integrated milk system rinsing and cleaning programme | Yes |
| Automatic milk rinse | Yes |
| Remaining time display | Yes |
| Generating code groups | Yes |
Design and materials

| | |
| --- | --- |
| Display | TFT color display |
| Width-adjustable dual spout | 20 - 50 mm |
| Height-adjustable dual spout (Milk/Coffee) | 70 - 159 mm |
| Hot-water spout | Yes |
| Height-adjustable hot water spout | 69 - 165 mm |
| Cup illumination | White and amber |
| Sound design | Yes |
Areas of use and recommended maximum daily output

Recommended maximum daily output

120

Areas of use

Own usage
Service provider
Reseller
In figures

| | |
| --- | --- |
| Water tank capacity | 5 L |
| Coffee grounds container (servings) | 40 |
| Numbers of bean containers | 1 |
| Capacity of bean container with aroma preservation cover | 1000 g |
| Cable length | 1.1 m |
| Voltage | 220 - 240 V ~ |
| Current | 10 amp |
| Frequency | 50 hz |
| Power | 2300 Watt |
| Accounting systems | compatible |
| Stand-by power | < 0.5 Watt |
| Weight | 18.2 kg |
| Width | 37 cm |
| Height | 55 cm |
| Depth | 49.7 cm |
| Article Number | 15002 |