HONDURAS SHG FINCA SANTA ROSA - Dark Roast Coffee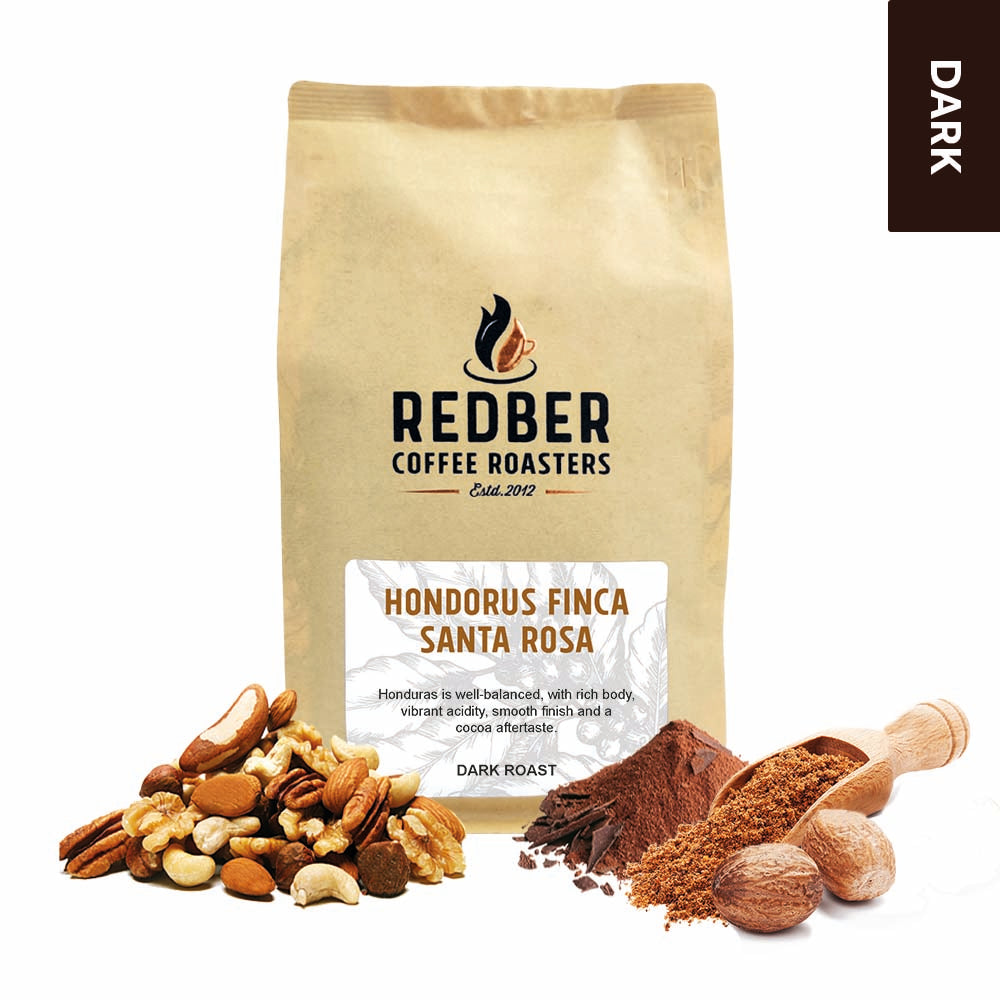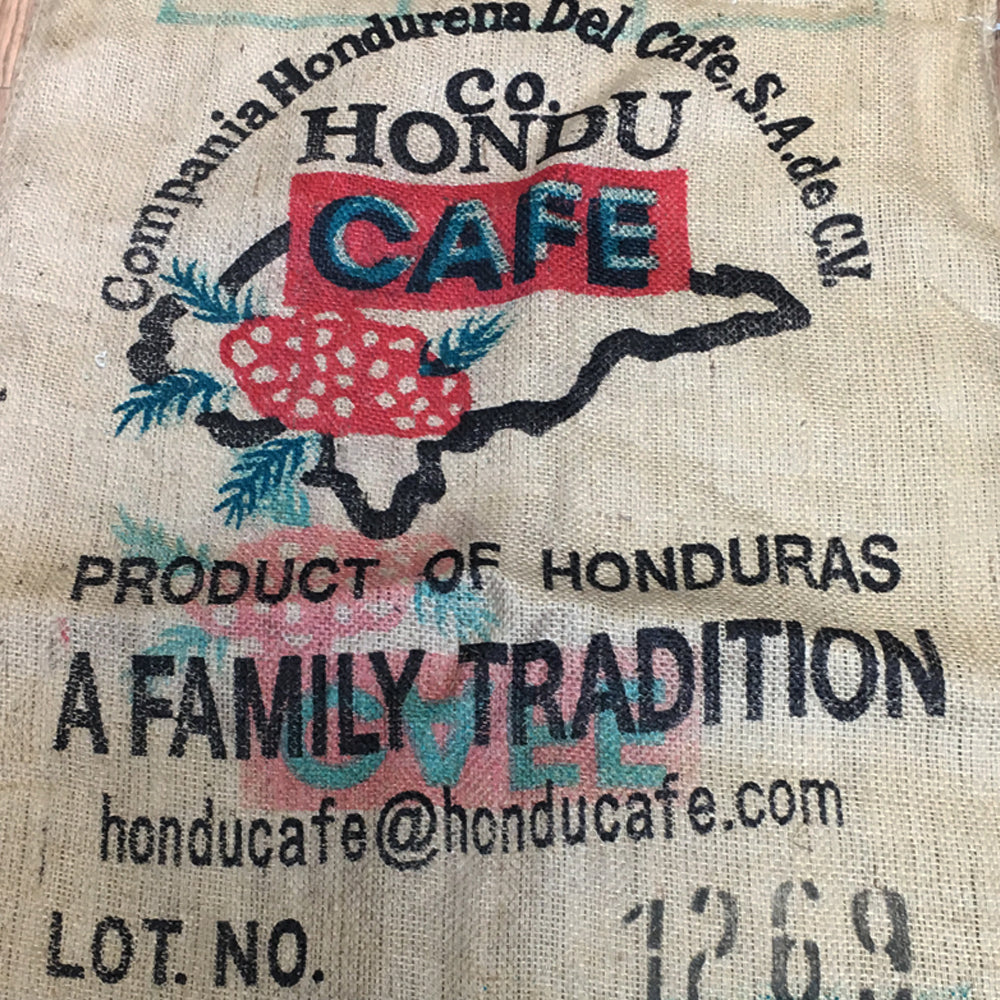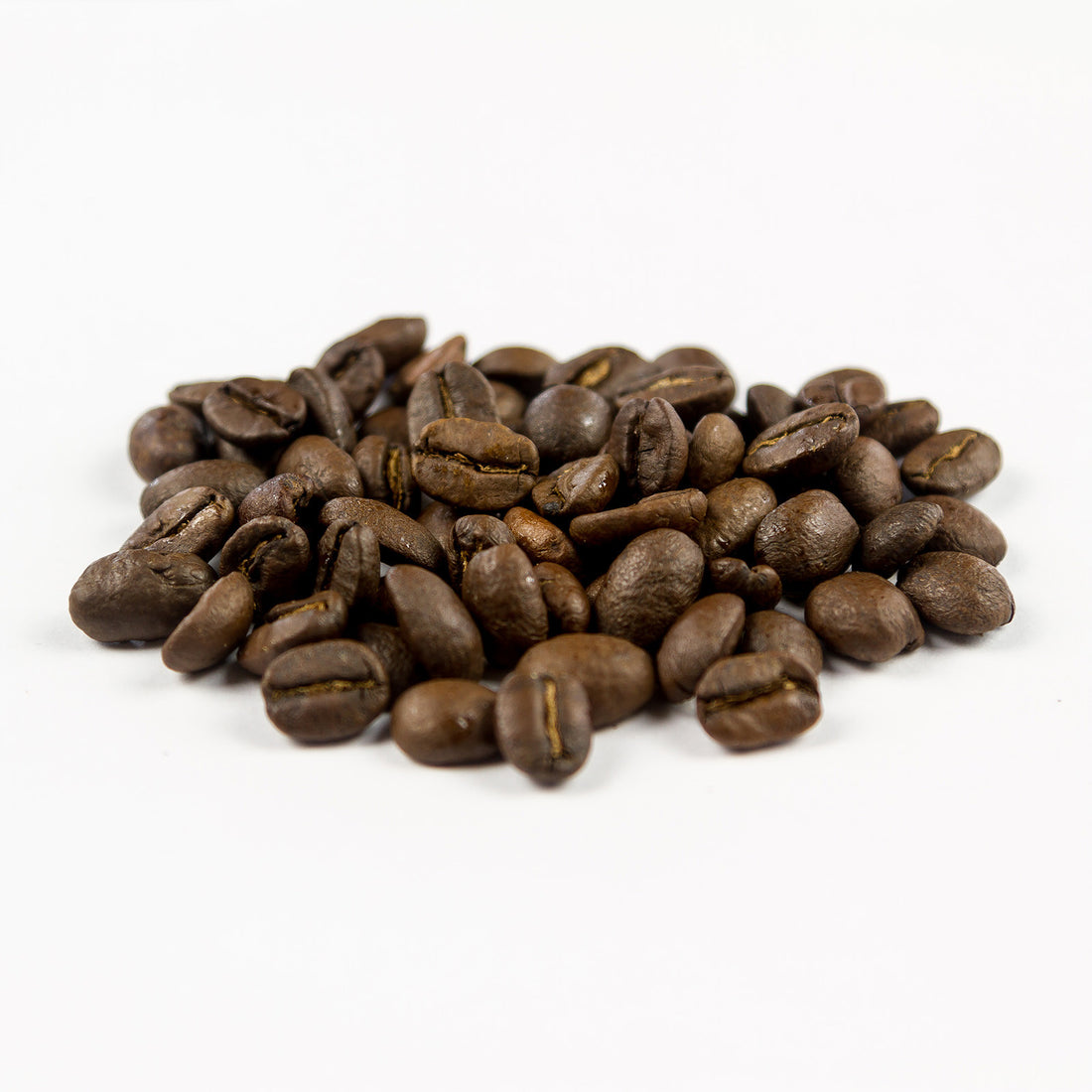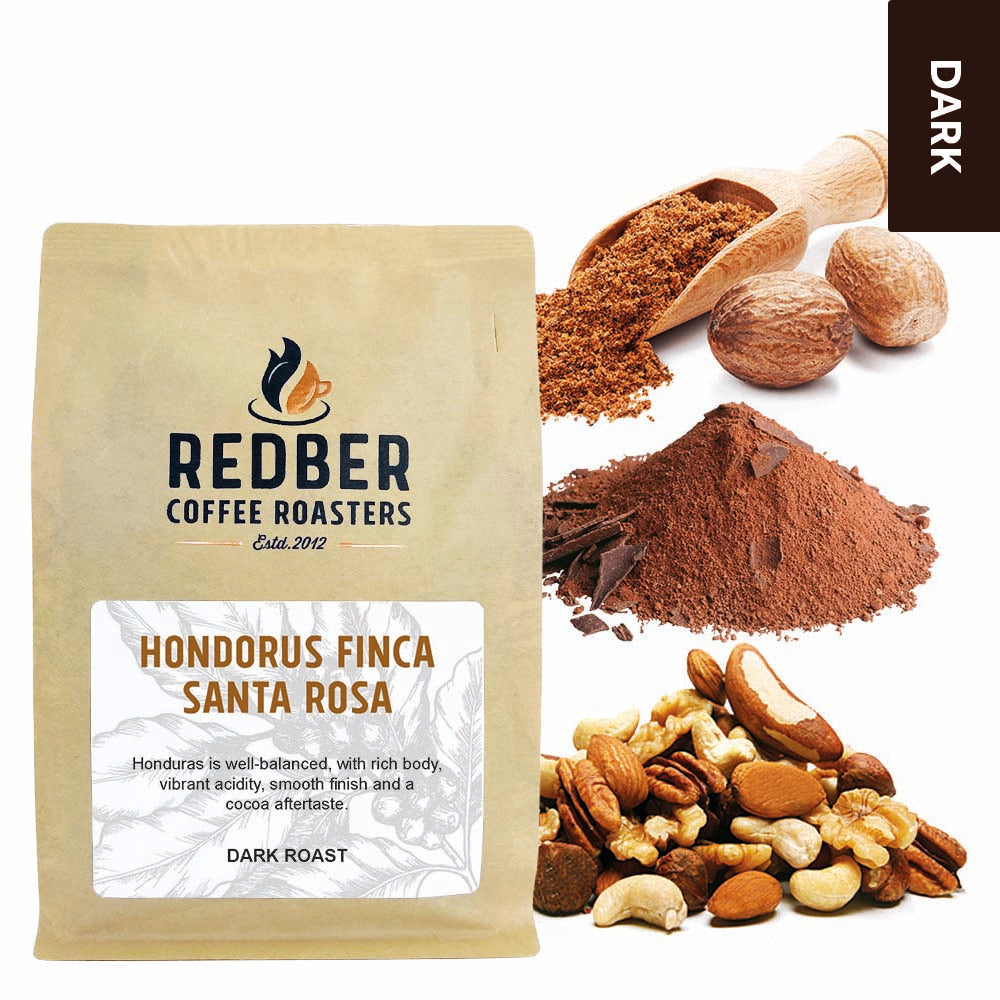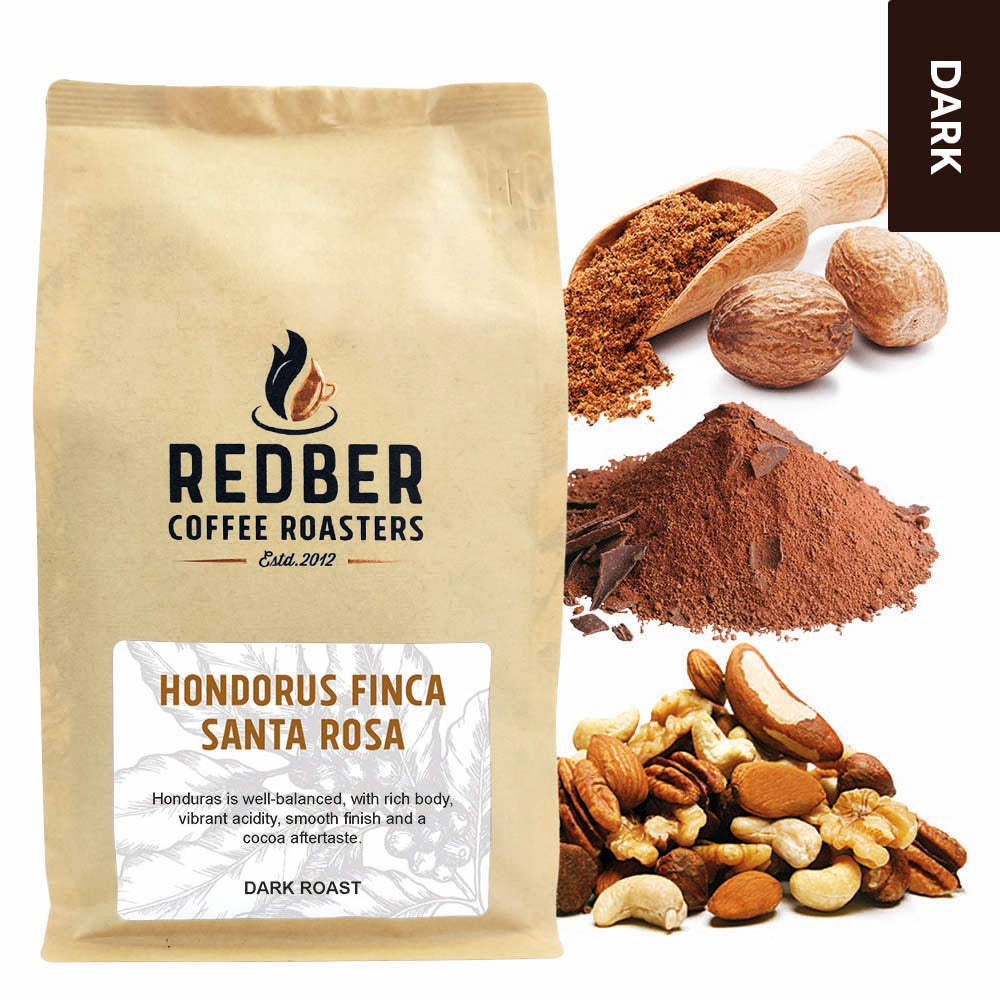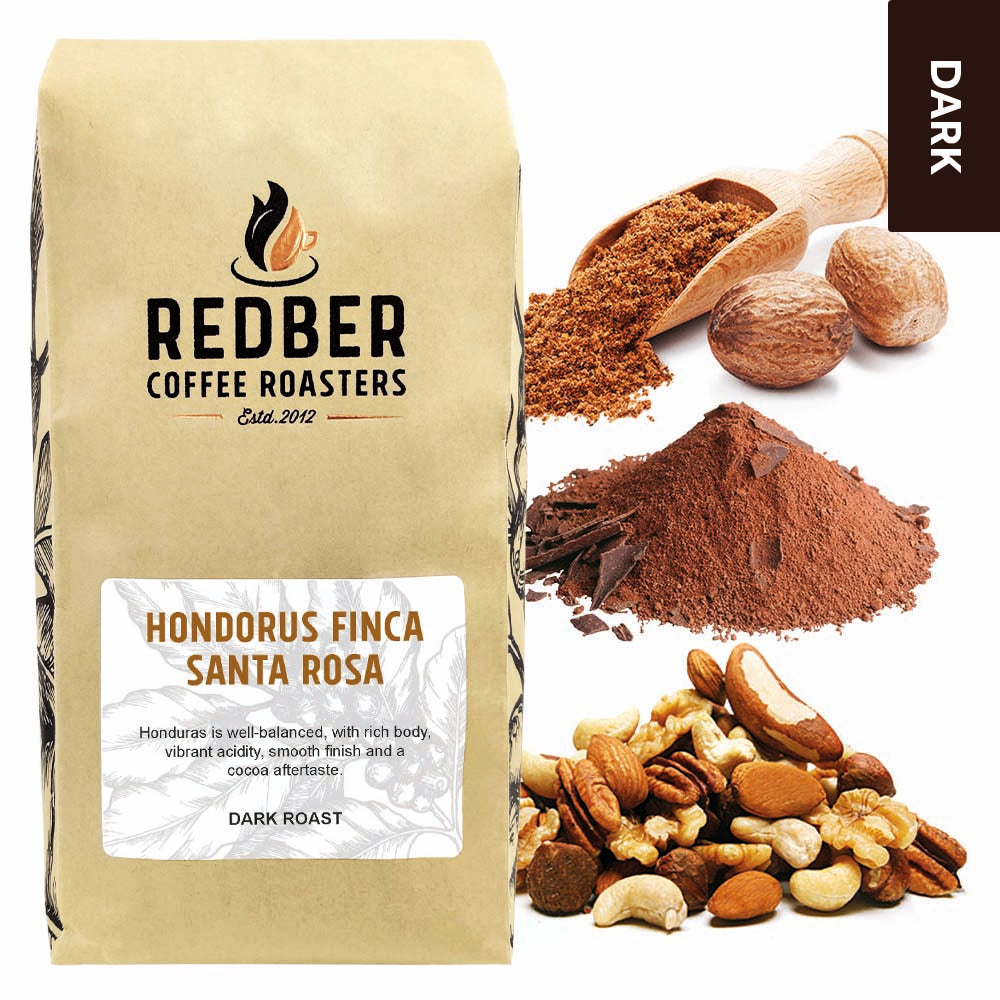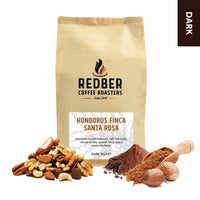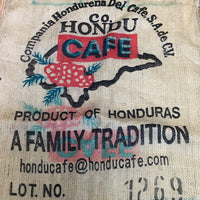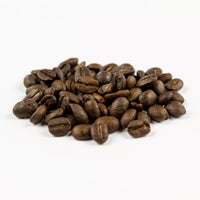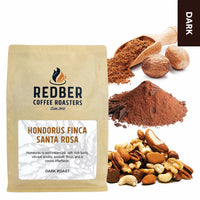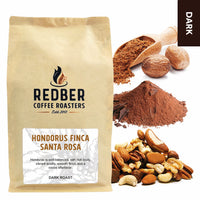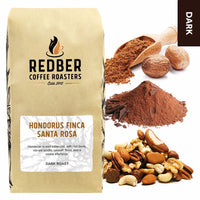 HONDURAS SHG FINCA SANTA ROSA - Dark Roast Coffee
Honduras Santa Rosa offers an exceptionally balanced cup, with a full-bodied texture, clear brightness, and a pleasant cocoa finish.
What you need to know...
Flavours

 

- Cacao, Nutmeg, Orange
Aroma

 

- Intense Dark Chocolate
Body

 

- Creamy, Smooth
Acidity

 

- Orange Citrus
The finer details... 
Origin:

 

Honduras
Region:

 El Paraiso

Altitude:

 

1,300 metres above sea level
Varieties: Catuai, Yellow Catuai, Lempira, Pacamara
Harvest Period: January - April
Processed Method: Semi-washed, Sun-dried with prolonged fermentation
Our Santa Rosa hails from the south of Honduras, bordering Nicaragua. The region of El Paraiso is ideal for coffee growing, with highly fertile soil, frequent rain and high altitude. This combination of environmental factors allows for some really complex and exciting coffee to be produced.  

Farmed by Mario Segura, the farm is now 360 hectares and employs some 800 local people. The farm is also proud of its state of the art wet mill which is extremely water efficient with minimal wastage and can process coffees with or without fermentation.
Mario's farm is supported by a quality control technician all the way through the production process, from choosing which plots to plant certain coffee varietals to harvesting and on to drying the coffee. This help in quality control ensures that the coffee meets Speciality Coffee Association standards. The most recent cupping score was 84.
Further to the help in quality control, the technician ensures that the farm conforms to sustainable, social and environmental practices. All production is completely organic. Large parts of the farm are dedicated entirely to local wildlife, improving biodiversity in the region. All profits are shared fairly throughout the employees of the farm, with a fairer than fair price being paid by us, the roasters.
On top of all the wonderful work this farm does thanks to Becamo, the flavour profile of the coffee is very exciting. Due to the fertility of the soil in Honduras, the coffee cherries are able to ripen almost completely uniformly which means a very consistent cup with each lot. On the palate, flavours of rich cacao and spicy nutmeg start, followed by a lasting orange acidity. The body of the coffee is creamy and deep and the aroma intense with dark chocolate.